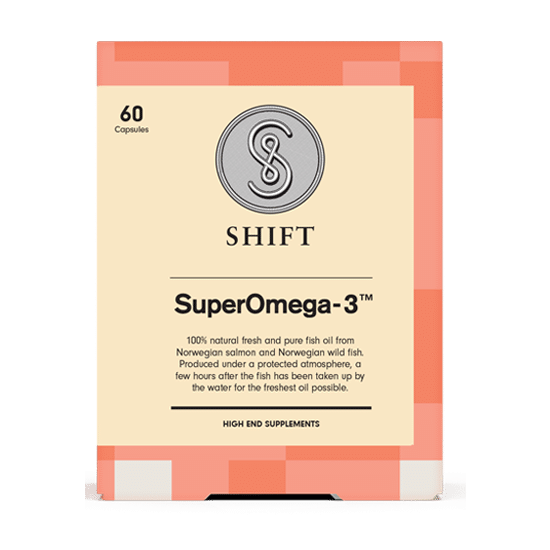 SHIFT SuperOmega-3 is a 100% natural fresh and pure fish oil from Norwegian salmon and Norwegian wild fish. The oil is produced in a protected atmosphere shortly after the fish has been captured to allow optimal freshness.
TRADITIONAL OMEGA-3 PRODUCTS
The vast majority of "Norwegian" omega-3 products are based on fish originating from waters outside of South America. The fish can remain untreated aboard the fishing boats for up to several days before it is sent for processing. When the boats arrive at land, the fish are, in most cases, sent to facilities that are made to produce fish flour. The remaining crude oil is a byproduct of this production.
The oil is stored without preventing it turning rancid and it often takes several months before sent for refining. It is cleaned and extends through an extensive heat treatment of up to 200°C. In addition, heavy cleaning processes are used which cause the oil to rupture. It is not uncommon for the oil to be artificially concentrated, with the result that many of the natural fatty acids and antioxidants disappear. The more concentrated oil is, the greater its risk of oxidation.
SUPEROMEGA-3 FROM NORWEGIAN FISH!
SuperOmega-3 consists of 100% pure and fresh Norwegian fish oil produced in Norway. The oil is a combination of SALfresh® Extra Virgin salmon oil and NordicSilver® wild fish oil.
The salmon oil is pressed from Norwegian wild fish such as sandeel, herring, solder, mackerel or cod depending on availability and season. The fish is caught in the Barents Sea and Skagerak, as well as in the maritime areas outside northern Norway. The oil is extracted only a few hours after the fish is caught.
The salmon oil in SuperOmega-3 is made from pure Arctic waters in Lofoten and Vesterålen. The salmon oil producer Nordlaks ensures fish welfare and healthy fish through a conscious choice of growing envioronment, a balanced number of fish in each cage, proper feeding and frequent and timely controls. It takes only one hour from the moment the salmon is captured until the oil is completely extracted and cold stored in protected barrels. This process takes place constantly in a protected atmosphere, without the use of extreme heat, to avoid oxidation of the sensitive omega-3 fatty acids. The oil is so clean that there is no need for refining or chemical treatments.
Both SALfresh® Extra Virgin Salmon Oil and NordicSilver® Wildfish Oil are extracted as gently as possible from fresh ingredients that provide a unique combination of omega fatty acids, and a stable and consistent high quality oil. The oil is not chemically processed or concentrated, and therefore contains all the same nutrients found in fresh fish. This natural form can help the nutrients to be utilized much better in the body's cells. SuperOmega-3 meets the strictest requirements for oxidation, and is added a natural antioxidant concentrate as an additional assurance against oxidation and rancidity.