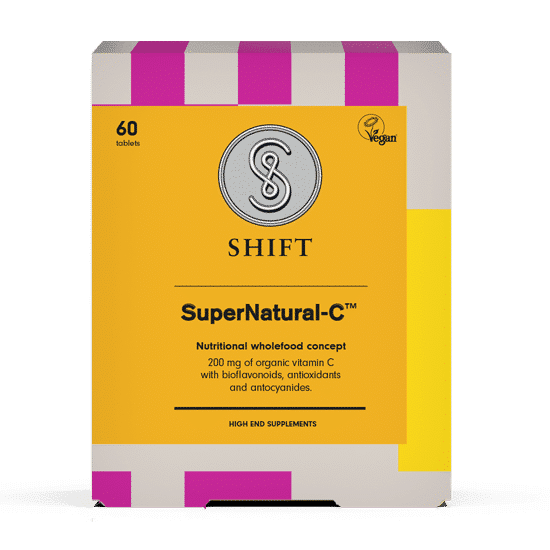 SuperNatural-C™ is the new generation of natural-C vitamin supplement. It is based on a Nutritional Wholefood Concept which compromises that the vitamines are directly extracted from foods. Not only you get a 100% natural nutrition from vitamin C, but also bioflavonoids, antioxidants and anthocyanins.
SuperNatural-C contains 100% natural concentrated nutrition from organically grown and handpicked Amalika berries. Each tablet gives you an efficient daily dose of 200 mg vitamin C.
NATURAL OR SYNTHETIC, WHAT WOULD YOU CHOOSE?
A common conception is that the vitamin C you purchase is natural. Synthetic vitamin C products are often given exotic fruit names and show natural images on the label. However, the products often contain an insignificant quantity of natural vitamin C, as the greatest portion by far of the content is synthetically produced ascorbic acid. There is no legal definition of what is a natural vitamin, making it harder for the customer to differentiate between the two.
AMALIKA – SO MUCH MORE.
The Amalika fruit is used a great deal in the Indian Ayurvedic medical tradition. The fruit has adaptogenic properties, which means that it counteracts stress and works generally to strengthen the body's organs. Amalika has a strong antioxidant effect that is attributed to several of the berry's tannoid complexes: emblicanin A (37%), emblicanin B (33%), punigluconin (12%) and pedunculagin (14%). Furthermore, it is said to have a good effect on constipation, strengthen the heart and lungs, provide increased vitality and strengthen the liver.