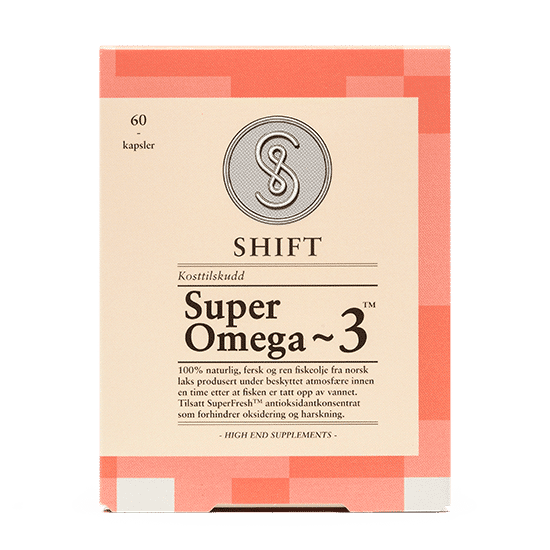 SuperOmega-3 is a 100% natural fresh and pure fish oil from Norwegian salmon, produced under protected atmosphere within one hour after the fish has been taken up by the water.
Traditional Omega-3 products from fish oil
In order to understand the difference between the various omega-3 products found on the Norwegian market, we must first give you an insight into how such subsidies are traditionally manufactured.
Sure, all "Norwegian" omega-3 products use fish oil derived from waters outside of South America. The fish used may remain untreated on board the large fishing boats for up to several days before it is sent late for processing. When the boats arrive on land, the fish is sent to a plant where crude oil is extracted, often under very bad hygienic conditions, and usually on facilities not approved for the production of human food.
Now you can choose SuperOmega-3!
SuperOmega-3 is 100% natural, guaranteed fresh and pure – made from Norwegian salmon from Arctic waters in Vesterålen.
The manufacturer of SuperOmega-3, Nordlaks, produces safe quality fish that comes from clean and cold Arctic Ocean. A conscious choice of good locations, ensuring fish welfare and a clean environment, a balanced number of fish in each cage, proper feeding as well as frequent and timely controls, provide healthy fish free of pollutants and with proper omega-3 content. Continuous and thorough quality controls in the modern premises for slaughter and processing are also a guarantee of the outstanding quality. A healthy fish farming means that the surroundings devote as much attention as the fish and its needs. Only sustainable and environmentally sound aquaculture is accepted. This is in our own interest not only for ethical reasons, but also because clean and fresh water is the basis for the production of premium fish. Nordlaks works according to these principles. The environmental conditions at the farmed sites are monitored regularly, in order to maintain optimal production conditions, and to avoid risk of contamination. Nordlaks works according to HACCP Quality Standards (Hazard Analysis and Critical Control Point), and has an audit of the Norwegian Food Safety Authority twice a year. They have obtained certification at several important international certification institutions.
Benefits of SuperOmega 3
Made from Norwegian salmon produced in Vesterålen
Absolutely no artificial additions
Prepared one hour after the salmon is taken up by the water
100% pure and natural
No nutrients have been removed
Content per. 2 capsules
Polarol Fresh Virgin Salmon Oil – 1000 mg
Omega-3 fatty acids – 215 mg
Of which:
EPA fatty acids – 48 mg
DHA fatty acids – 72 mg
DPA fatty acids – 25 mg
Other omega-3 fatty acids – 70 mg
Other fatty acids – 785 mg
Recommended daily dose
2 capsules taken together with a meal.
From fish to Omega-3 oil in less than an hour!
The oil used for SuperOmega-3 is recovered from the fish as soon as it comes out of the water. It takes less than one hour from the salmon to come up from the water until it is completely extracted and the cold storage on protected dishes. This process is always under protected atmosphere, without the use of extreme heat, to avoid oxidation of the sensitive omega-3 fatty acids. As an extra protection against rancidity, a unique antioxidant concentrate is added only in SuperOmega-3. The oil is so clean that there is no need for refining, chemical treatment or processes that involve heating up to 200 ° C. It contains all the natural omega-3 fatty acids from fresh fish, as well as antioxidants and the fat-soluble vitamins A, D, E and K – no nutrients are lost during production.
All oils will oxidize and rancid over time, including fish oil. SuperOmega-3 should be completely fresh and perfectly clean, you can always count on it.